Morgan Evans Details New Album 'Things That We Drink To' | First Look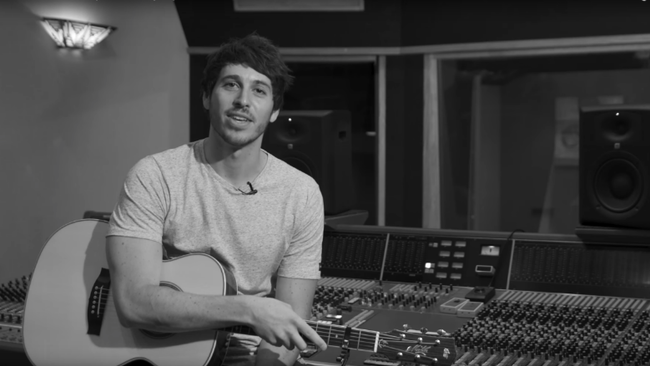 iHeartRadio's First Look powered by M&M'S is your one-stop source for an exclusive first look inside original artist content! From album sneak peeks to going behind-the-scenes on tour to a day in the life of your favorite artists, First Look brings you incredible industry content you won't find anywhere else. Explore, share it with your friends and keep checking back through November as we bring you more exclusive videos and footage every week!
When Morgan Evans decided to pack it all up in Australia and move to Nashville to record his new sophomore album, Things That We Drink To, he knew he was leaving behind everything he knew, but the 33-year-old singer/songwriter seems content with the risk.
"I moved from the other side of the world to be here in Nashville and write songs," Evans said in our latest installment of iHeartRadio's First Look powered by M&M'S. "I say it all the time, but it really is true. I moved to the States with a guitar and a suitcase that had like four black t-shirts in it. So much of my life I left behind."
For the follow-up to his 2014 self-titled debut, the singer, who married Kelsea Ballerini late last year, said that he collected inspiration from the last two-and-a-half to three years of his life. Clocking in at 36 minutes, the 11-track set is mostly comprised of the Aussie native and producer Chris DeStefano's instrumentation. "We would try something and take it off and then try something and take it off. We would make the record through the writing process, which I found to be the most creatively free way of making music," Evans explained.
While Evans described the collection's title track as "a celebration of life," there's a deeper connotation to it as it's also a tribute song to his longtime manager, Robert Potts, who died in a motorcycle accident in 2017.
Evans has a couple of tour dates down the line and he's coming into the stage of his career where the music is connecting even more with concert-goers. "It's important for me to feel that people are going to like it firstly, but also feel like I'm saying what I feel at the same time and that it feels like something I want to be singing for the rest of my life," he said.
Things That We Drink To is currently available for download.